Sechs Vertreter des Comenius-Konsortiums aus Ungarn, Niederlanden und Deutschland stellten in einer gemeinsamen Präsentation den  Stand der Arbeit vor.
Ernst Wagner (Germany): ENViL – an introduction
Diederik Schönau (The Netherlands): Visual competency and 21st century skills
Carl-Peter Buschkühle (Germany): Art in the Context of Education
Marc Fritzsche (Germany): Learning, Bildung, competences
Gabriella Pataky (Hungary): Tests or/and Exercises
Folkert Haanstra (The Netherlands): A Visual Rubric for Formative  Assessment/Self Assessment
Das Interesse war sehr groß, über 60 Teilnehmer haben das Panel verfolgt. Die sich anschließende Resonanz und das Feedback waren ausgesprochen positiv, das Interesse an einer Zusammenarbeit in einem möglichen (englisch-sprachigen) Follow-Up-Netzwerk ist sehr hoch: Es haben sich über 40 Interessenten gemeldet. Der Herausgeber von IJETA, Glen Coutts, hat danach angeboten, dass die Ergebnisse in einer Sondernummer von IJETA im Herbst 2016 veröffentlicht werden.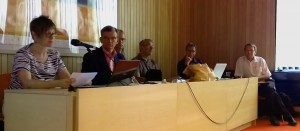 Verankerung der Weiterarbeit nach 2015 bei InSEA Europa
Darüber hinaus wurde bei zwei Treffen der InSEA-Mitglieder unsere Arbeit vorgestellt. Dabei wurden  folgende Optionen einer Weiterarbeit diskutiert: Weiterarbeit auf Englisch; Einbeziehung neuer Partner, v.a. aus Ländern, die bislang nicht vertreten sind; Abhaltung kleinerer Arbeitstagungen zur Implementierung (z.B. Museumspädagogik, Heritage Education, nationale Lehrplanentwicklungen); Entwicklung von Finanzierungsmodellen; Konstituierung als InSEA-Taskforce.