Six representatives of the Comenius consortium from Hungary, Netherlands and Germany presented the state of work in a joint presentation.
Ernst Wagner (Germany): ENViL – an introduction
Diederik Schönau (The Netherlands): Visual competency and 21st century skills
Carl-Peter Buschkühle (Germany): Art in the Context of Education
Marc Fritzsche (Germany): Learning, Bildung, competences
Gabriella Pataky (Hungary): Tests or/and Exercises
Folkert Haanstra (The Netherlands): A Visual Rubric for Formative  Assessment/Self Assessment
The interest was very high, over 60 participants, took part in the panel. The subsequent response and the feedback was very positive, the interest in cooperation in a possible (English-speaking) follow-up network is very high: more than 40 parties reported their interest. The publisher of IJETA, Glen Coutts, then offered to publish the results in a special issue of IJETA in autumn 2016.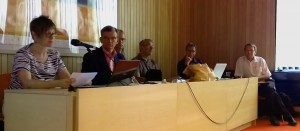 Anchoring the further work after 2015 in Europe InSEA
In addition, our work was presented at two meetings of InSEA members. The following options of further work were discussed: Further work in English; involvement of new partners, especially from countries that are not yet represented; Holding small working meetings to implement (eg Museum Education, Heritage Education, national curriculum development); Development of financing models; Constitution as InSEA Task Force.